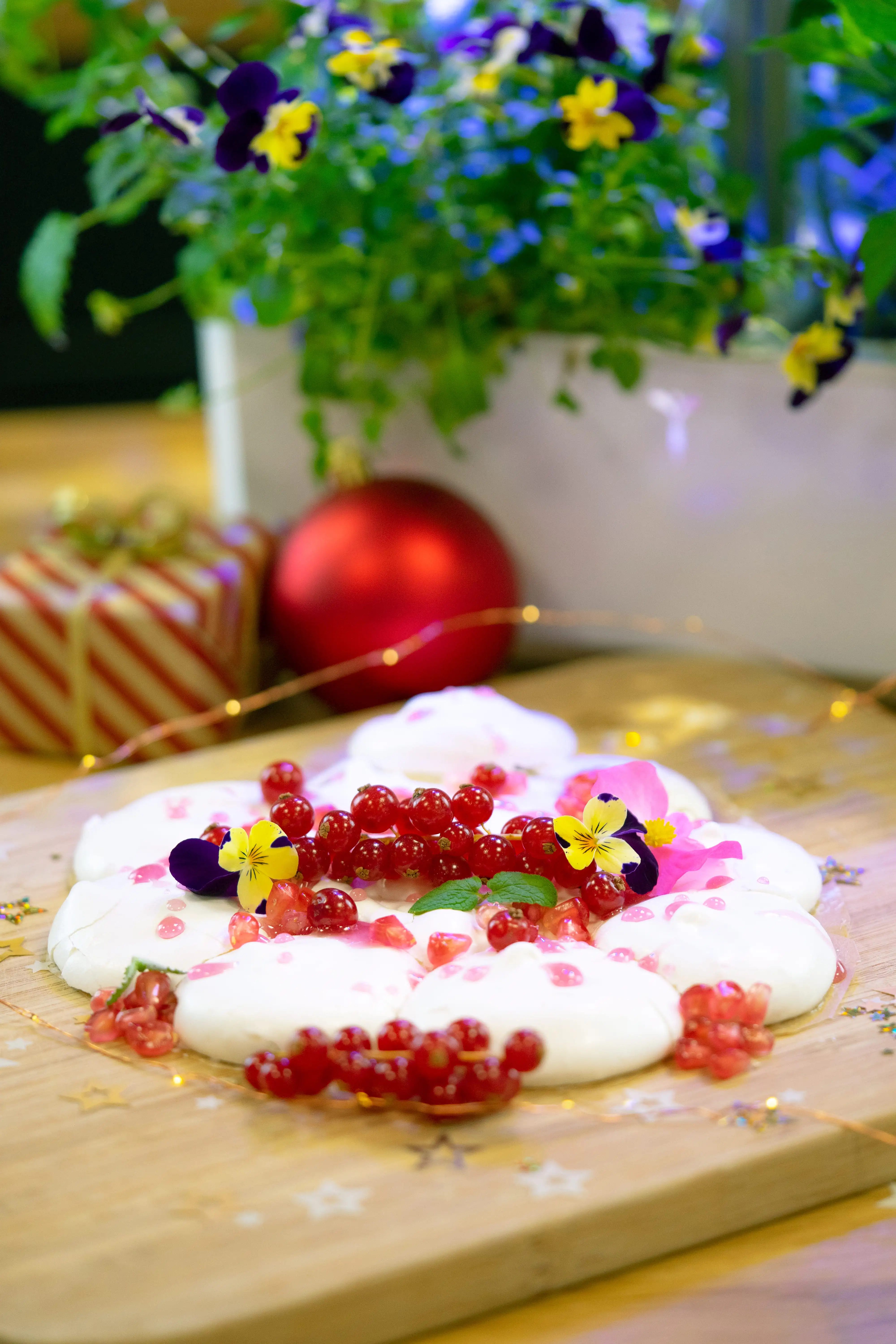 Christmas Pavlova with icy mint and pomegranate syrup
    December is synonymous with Christmas and therefore with the
    Christmas Eve menu!
    This year, we wanted to start with dessert, with a Veritable® Icy Mint
    Pavlova with pomegranate syrup, decorated with pansy flowers.
    We chose to make a Christmas version of this meringue-based dessert,
    named after the Russian ballerina Anna Pavlova.
Ingredients (for 7 people)
       For the mint syrup:
30 leaves of Véritable® icy mint 
60g of sugar
60g of water
For the pavlova :
120g of egg whites
100g of sugar
100g of powdered sugar
8g of corn starch
2g of lemon juice
Some Véritable® pansy flowers
Red berries of your choice
For the pomegranate syrup:
1 pomegranate
60g of sugar
         Prepare your mint syrup: put the leaves, sugar and water in a saucepan. Bring to a boil for about 10 minutes, then let your syrup cool in a container.
          Preheat oven to 90°C. In a bowl, mix the powdered sugar and cornstarch. Set aside.
         In a container, beat your egg whites until they are stiff. When they start to foam, add the lemon juice. Add the sugar a little at a time to stiffen the whites, continuing to whip until the meringue forms a bird's beak on the beaters.
         Sift the powdered sugar and cornstarch mixture over your meringue, then fold in with a marysee until smooth.
         Place a sheet of baking paper on a baking sheet. To help you, you can draw the template of your pavlova with a pencil. Using a piping bag, pipe your meringue in the way you prefer: it can be in the shape of a crown, individually...
         Place your meringue in the preheated oven for 45 minutes. Open the oven door to let the steam escape, then put it in the oven again for 45min. Then, let your pavlova dry in the turned off oven for 1h, then let it rest at room temperature.
         While the pavlova is cooling, prepare your pomegranate syrup: remove the seeds from the pomegranate, then crush them in a container with a potato masher. Strain the juice to remove the seeds, then put the juice in a saucepan. Add the sugar and cook until the mixture thickens, stirring regularly.
         All you have to do is arrange your pavlova: on a plate of your choice, place it, sprinkle the top with pomegranate syrup and red fruits, in this case pomegranate seeds and currants. You can also add a few Veritable® edible flowers, such as pansy or begonia flowers.
      Pavlova can be made with many fruits: for a more exotic version, you can choose mango or passion fruit. The important thing is that you like it!
      Merry Christmas!